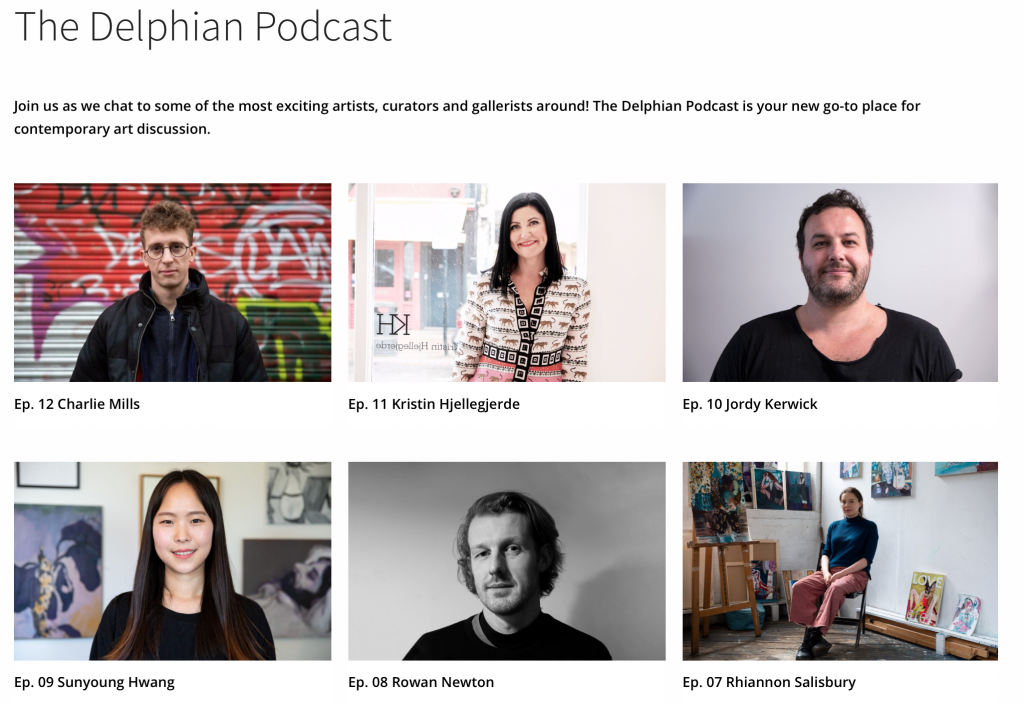 So my blog posts on here have been a bit thin on the ground recently (and not so recently) as I've been so incredibly busy that unfortunately things like this have been sliding. Starting now, I'm planning to update this much more regularly, using it as a journal of sorts.
The first thing that has been taking up a healthy proportion of my time also happens to be something that I have really begun to love doing – recording the Delphian Podcast. Our plan for the podcast is simple, every two weeks we release a new episode that features the both of us, plus one guest. Each guest is an art world practitioner in some sense, but we are trying to get as many differing viewpoints as possible, and so are inviting not only artists and gallerists, but collectors and writers too (coming soon). We didn't want each episode to have too much of us talking, as then it may start to become repetitive, so we simply chime in every now and then, guiding the guest along.
The full list of guests so far is:
1 – Kate Mothes – director of YngSpc
2 – Andy Dixon – Artist
3 – Rosalind Davis – artist and curator at Collyer Bristow Gallery
4 – Andrew Salgado – Artist
5 – Chiara Williams – Artist and former director of WW Gallery
6 – David Shillinglaw – Artist and director of Dirty Paradise
7 – Rhiannon Salisbury – Artist
8 – Rowan Newton – Artist and 1/3 of the Art Proof Podcast
9 – Sunyoung Hwang – Artist
10 – Jordy Kerwick – Artist
11 – Kristin Hjellegjerde – Director of Kristin Hjellegjerde Gallery
12 – Charlie Mills – Curator at Hannah Barry Gallery, Bold Tendencies, and Collective Ending
Have a listen, and please let me know what you think!
the Delphian Podcast is available on Spotify, iTunes, Podbean, and wherever else you listen to podcasts.
As Well As This
I've also updated my Artworks page – HAVE A LOOK HERE