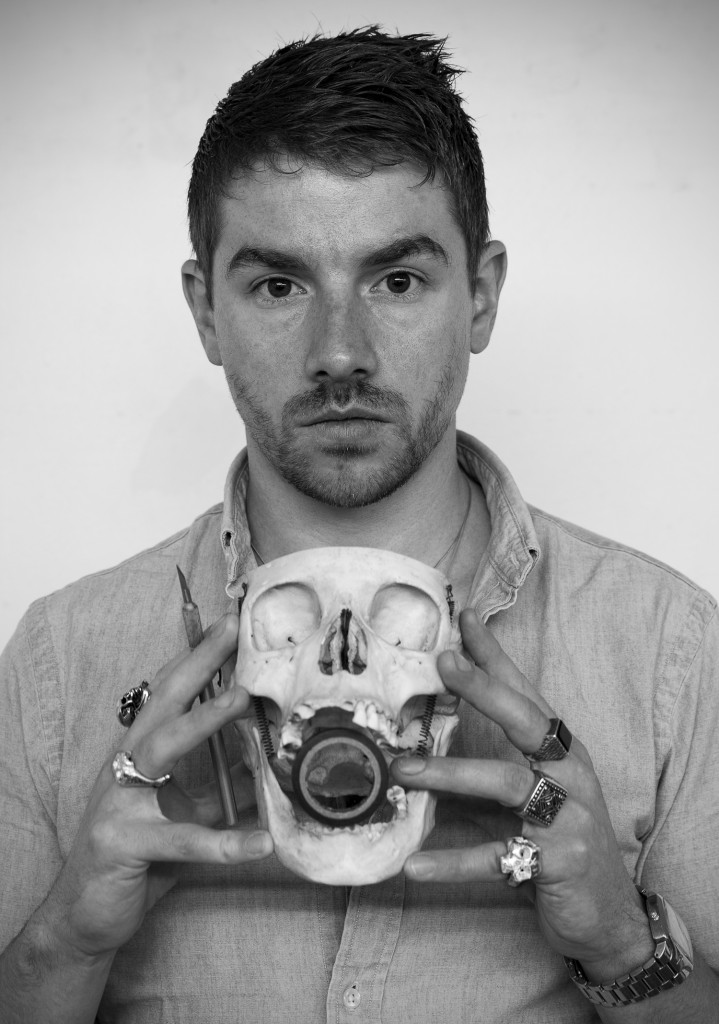 Benjamin Murphy is a visual artist and writer based in London. Primarily, he creates monochromatic figurative artworks using the esoteric medium of electrical tape.
Born in West Yorkshire in 1988, Benjamin now exhibits globally. He holds both a Bachelors degree and a Masters degree, specialising in Contemporary Fine Art.
Career highlights include
Exhibitions: The Saatchi Gallery, Beers Contemporary, Subliminal Projects.
Charity Exhibitions: The Serpentine Gallery, Sotheby's, The Houses Of Parliament, The Wallace Collection.
Benjamin also regularly writes about art theory for a number of magazines, and most of the inspiration for his work comes from classic literature.
Some key names include:
Marcel Proust,, Jorge Luis Borges, Charles Baudelaire, Leo Tolstoy.
Roughly 30% of Murphy's output is for charity, with multiple regular donations of work happening every year. It is estimated he has raised £50,000 for charity since 2012.
"Benjamin makes his work about life and death, the perennial concerns of young men." – Billy Childish
"…this is a multifaceted talent who choses to focus his art on an aesthetic and ethos that is so well-rounded and thought-out that many artists working a lifetime would be jealous of." – Andrew Salgado

"Yeah, looks alright." – Grayson Perry
Education
Masterpieces of World Literature: Fictions of the Modern World – Harvard University(EdX Online) – Passed with 97%
The Original Spirit of Western Philosophy – Tsinghua University (EdX Online) – Passed with 92%
Shakespeare Matters – Adelaide University (EdX Online) – Passed with 97%
Masters Degree with Merit – Contemporary Fine Art – The University of Salford
Bachelors Degree Second Division – Graphic Design – The University of Salford
AVCE (B,C) Art and Design – Leeds College of Art
Benjamin has multiple pieces in the Rothschild Family Private collection, as well as many other private collections in The UK, Italy, Holland, The USA, Germany, Spain, Norway, Poland, Australia, Denmark, Finland, and others.
SELECTED PAST EXHIBITIONS
SOLO SHOWS
Lavish Entropy – (Delphian Gallery London – July 2018)
Vile Oblivion – (Creat Gallery Helsinki – June 2016)
Gilded Chaos – (Beers Contemporary London – January 2016)
Innocence Is A Thing Of Which We Know Nothing – (Great Eastern Bear Gallery London – March 2013)
Abandon All Hope – (Hoxton Gallery London – November 2012)
RESIDENCIES
Deaths and Entrances (solo show) – Mirada Gallery Ravenna, Italy – 2015
Nothing Is More Real Than Nothing (solo show) –Pescara, Italy – 2014
LuxUrban – Luxembourg 2013
ART FAIRS
Moniker Art Fair – (With Stick Together and Art On A Postcard) London 2016
Berliner Liste – (With Max Zorn) Berlin 2015
Bloom  – (With Max Zorn) Koln 2015
Stroke Art Fair – (With Max Zorn) Munich 2015
Moniker Art Fair – (With Jealous, and Art On A Postcard) London 2015
Moniker Art Fair – (Moniker Represented Artist) London 2014
OTHER EVENTS
Invited Judge – Loop.gl Art Prize 2018
Guest Lecturer – The Slade Summer School 2018
TWO PERSON SHOWS
Untitled (With Nick JS Thompson) – Book&Job Gallery San Fransisco 2019
Everything Must Go (With Hayden Kays) – London January 2015
CURATED SHOWS
As yet untitled – (Rhiannon Salisbury Debut solo show) – Delphian Gallery London (forthcoming)
Divergent Motion – Delphian Gallery London 2019
Open Call – Delphian Gallery London 2019
A Long Way from Home – (Igor Moritz & Kevin Perkins) – Delphian Gallery London 2019
Some Pieces of Mind – (Bertrand Fournier debut UK solo show) – Delphian Gallery London 2019
Open Call – Delphian Gallery London 2019
Seating Arrangement – (Florence Hutchings debut solo show) – Delphian Gallery London 2018
Diary of an Introvert – (Jordy Kerwick debut UK solo show) – Delphian Gallery London 2018
Open Call – Delphian Gallery London 2018
Lost Coast – Delphian Gallery London 2018
Printswap – theprintspace London 2017
Obscurely Prophetic – Delphian Gallery London 2017
Relics – BSMT Space London 2016
Defiance – John The Unicorn Peckham 2016
The Decline of Conscience – Hundred Years Gallery 2015
Art on a Postcard 2 – Soho Revue 2015
Art on a Postcard Moniker – Moniker Art Fair 2015
Art on a Postcard 1 – Whitfield Fine Art Soho – 2014
Group Collective Are Kunsts – Delphian Gallery – 2013
Fuck Christmas – Hoxton Gallery – 2012
SELECTED GROUP SHOWS
Divergent Motion – Delphian Gallery London 2019
JNY – The Saatchi Gallery London 2018
Cash Is King – The Saatchi Gallery London 2018
Hospital Rooms – Griffin Gallery London – 2018
JNY – Jealous Gallery East London 2018
TAC – Neurotitan Gallery Berlin 2018
Reprieve Charity Gala – The Serpentine Sackler Gallery 2017
WeAreTheOnes – Kunstsalion Copenhagen 2017
75 Works On Paper – Beers Contemporary 2017
ING Discerning Eye Art Prize (invited artist) – Mall Galleries London 2017
Tape Art – Ormond Art Museum Florida 2017
ASA Go Show – Go Gallery Amsterdam 2017
Art On A Postcard (Charity Show) – The Unit London 2017
DRM Spectacular (Charity Show) – The Grand Hotel – London 2017
Vernissage – Neurotitan Gallery Berlin 2016
Class Acts – Subliminal Projects Gallery Los Angeles USA 2016
Terrence Higgins Trust Auction (Charity Show) – The Savoy Hotel London 2016
Reprieve (Charity Show) – The Wallace Collection London 2016
MSF (Charity Show) – London 2016
Diversity Role Models (Charity Show) – Waldorf Hotel London 2016
50×50 – Saatchi Gallery 2015
Repeove Auction (Charity Show) – The Wallace Collection – 2015
Interior/ Exterior – Square and Friends Gallery Australia – 2015
Hemyca (London Fashion Week) – M&C Saatchi London – 2015
DNA BLN – DNA Berlin 2015
Apopo (Charity Show) – Belgium – 2015
Sadie Frost/ Hep C Fundraiser (Charity Show) – Groucho Club 2015
Youth For Elder – Traffic Gallery – Milan Bergamo 2015